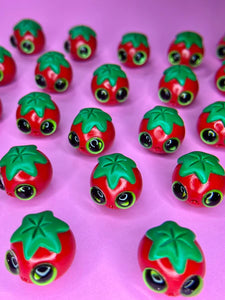 ❤ This listing is for a single Tomato Worry Wart!
❤ Each Worry Wart is hand sculpted, sealed and detailed by hand and as such slight imperfections and differences. Warts will vary from the ones photographed
❤You can keep in your pocket, on your bed stand, on your desk or even in your bag! They fit most anywhere and are a sure fire way to keep the stress at bay!
❤Each worry wart also comes with an info card that makes it easy to gift it to a loved one going through a difficult time so that they understand what it is!
❤ Each wart that has a different styles of eyes, the eyes are always a surprise.
❤ Worry warts are small and sometimes have sharp parts like crystals or other metal adornments they can be considered hazardous to choking they are not suitable for small children.