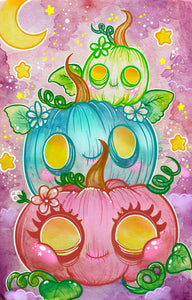 I wanted to try something new and make an antithesis to one of my older pieces, my creepy pumpkin stack. I figured I could do an update with a pretty pastel version. 
❤Measures 8.5x 5.5 Inches
❤It's halloween every day 
❤The original was created with a mixture of watercolours and digital media 
❤This piece is big enough to be framed, or sent as a treat in the mail! Whatever giggles your wiggle!