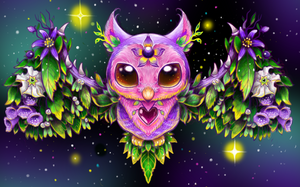 ❤Measures 8.5x 5.5 Inches
❤ Features a creature created by Carys Cuttlefish, the Ibis Venenum a sacred bird that consumes dangerous poisonous plants and is the gatekeeper between this and alternate dimensions. Learn to tame one, and you will learn the secrets to the wisdoms of the ages. 
❤ This piece is big enough to be framed, or sent as a treat in the mail! Whatever giggles your wiggle!
❤ Original created digitally