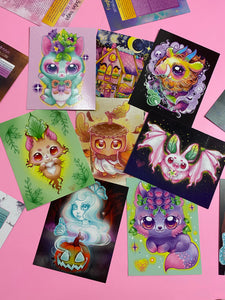 ❤Allow the cards and divination to choose you, YOU WILL GET RANDOM folklore cards from the selected options, that will tell you a message or a reading to the question you seek answers to. 
❤Each card, contains stories, and folklore about the creature and character that has been illustrated on it so you can learn about its history. 
❤Each card also includes a unique divination meaning that is attached to the folklore and history of the creature. 
❤These cards can also be used to build your own deck, or framed and hung as prints because of the high quality of the artwork. 
❤Measures 4.2 x 5.5 inches
❤Glossy front. 
❤ High quality printing, so it can be displayed or framed.